To obtain a better understanding on the performance and utilization of HELCOM data services under the Baltic Data Flows project we are using the 'Spatineo Monitor' developed by Spatineo. Spatineo are a partner of the project, providing specialist engagement with Activity 2, the further development of existing data platforms.
Using the Spatineo Monitor we can observe when, where, and how our online services are used. For example, the Spatineo Monitor provides insights on the most popular data layers made available from the HELCOM Map and Data Service (MADS). This information helps us target resources to improve service availability and performance.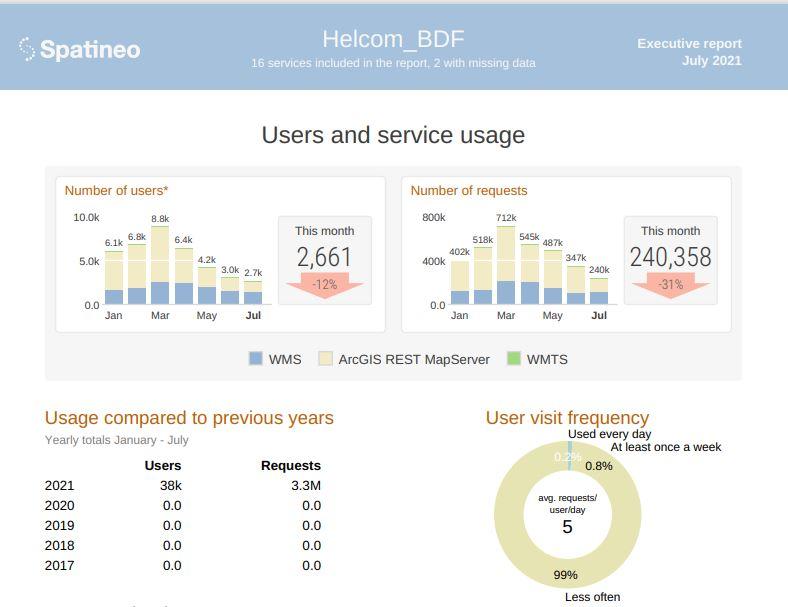 Spatineo Monitor's automated quality and usage analytics reports help prove the value of our online services. Scheduled reports have been established to help us understand changes in the use of data. Each report can be tailored to show the number of users, locations, and requests over defined reporting periods. These reports have recently helped to complement findings from an end-user survey targeting users of the HELCOM MADS and Metadata Catalog. Reports can be accessed through the Spatineo Monitor online platform that grants access to multiple users. From here users can also view real-time usage analytic dashboards.
In addition, on-demand performance tests can be conducted for instant checks on response times and downtimes of critical services. The Spatineo Monitor also provides alerts if a service stops working. 'Availability Widgets' for each service of the HELCOM Map and Data Service are being used for a quick status overview. The Availability Widgets are embedded below showing the availability of each service over the last 30 days.
Pressures
Monitoring
Biodiversity
Shipping Indicators and assessments
Human Activities Red listed species and habitats
Background
The Spatineo Monitor also offers data validation services through the official INSPIRE validator and the classic Spatineo Monitor validation tool. The INSPIRE validator is able to validate services and datasets especially in the INSPIRE context.